Sonic Jellybean's Business Intelligence Services helps Businesses Make Data-driven decisions
A complete data analysis solution that provides the insights needed to make calculated decisions and data-driven strategies for businesses. The right BI consulting solution will convert your data into organised and analyzable insights. Take BI Analytics as a straightforward path to having access to all your business data in a unified place. An easily accessible data visualisation or dashboard with data insights provides valuable information that is easy to spot on decisions. 
Through our Business Intelligence Services, we help clients leverage business information to optimise their internal business operations and make informed decisions. Our tech team of BI Developers works closely with our clients to assess their goals and challenges. It starts with our consultation to choose the most appropriate solution that meets their business needs as well as gives them an edge over their competitors.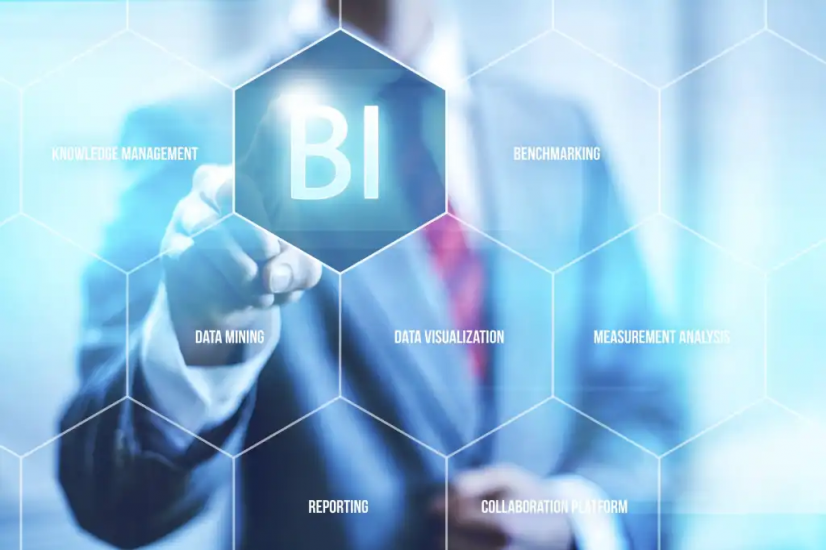 Business Intelligence Services
Business Development
We are a leading BI development company with the expertise to assist businesses with the integration and implementation of business analytics and data management. Our BI development services help with transforming enterprise data sets into rich visualizations, interactive dashboards, and custom reports that drive business operations faster.
BI Consulting
Understanding the requirements of clients is crucial while delivering quality BI consulting solutions. We take the time to communicate with your team to understand the business challenges you face and come up with an optimised business intelligence solution. Our solution defines how your BI capabilities should develop over time and add value to your optimization goals.
BI Reporting
Through our BI reporting service, we make sure that interactive dashboards are updated to deliver real-time data about different conditions. BI reporting capabilities allow users to create reports quickly using tools such as the drag and drop interface.
BI Implementation
Data is a crucial asset for businesses today. Organizations must be able to produce and store huge amounts of data to make use of it productively. Our BI implementation and consulting services provide a strong analytics platform that uses raw data to make your business efficient.
Data Visualization
In such a competitive market, our data visualisation service helps in presenting the business data and provides you with the right information available. Our data visualisation services seamlessly collect data from your multiple business modules and impart essential information. This helps in making faster and more informed decisions.
BI as a Service
BI as a service helps businesses retrieve actionable insights from raw data to streamline decision-making, gain business insights and improve business performance. Our BI consultants are ready to solve BI-based challenges, whether you have just started with a BI project or have a mature BI solution.
Implementation of BI Application
BI software helps businesses automate and enhance a workflow that increases overall efficiency. We build strategic solutions focused on deploying data on multiple mobile devices to leverage the power of mobile action. From concept to the production process, we work with clients to deliver improved BI application solutions.
Enterprise Business Intelligence
An enterprise business solution amalgamates multi-formatted data across the organization's various departments and divisions into centralised data stored securely. Our Enterprise BI solution helps organisations with establishing business intelligence or integrating BI applications into an EBI system that helps in increasing productivity and efficiency.
BI Platform Services
Utilizing data more effectively has always been the core objective of business intelligence that helps in making better decisions. Business intelligence platforms make this process more efficient. We specialise in a wide range of business intelligence platforms such as Tableau, Power BI, and Microsoft Office 365 to deliver the most innovative solutions.
How is Business Intelligence Beneficial for Business Growth?
Business Productivity
In a race to reach and stay at the top, organisational productivity is essential. Business intelligence is faster, more efficient, and allows for accurate reporting capabilities that help in improving the company's productivity. With our BI consulting services, your business can reach its quantitative goals, monthly sales and delivery targets, and keep track of the business's progress regularly.
Enhance Business Efficiency
With the huge volume of information generated from business operations and client communications, professionals might end up being overwhelmed by this data. Business intelligence is a customised system of technologies, tools, and practises that collect and organise data to create insights. It offers a centralized view of a company's information and provides predictive insights that help in transforming raw data into actionable plans.
Improve Risk Management
Data analysis software such as business intelligence lets you make more accurate predictions by analysing current and historical data. With the integration of business intelligence, organisations can protect themselves by executing risk management plans and planning for potential risks in advance. Understanding and controlling risk enables organisations to make business decisions with a higher level of certainty.
Data Quality Management
Data in an organisation stays in many forms, and not all the data is accurate enough to make important decisions. Making business decisions on the basis of inaccurate or unreliable data could cost you a fortune. Data quality management helps in analysing poor quality data and tracking how it is entered into your database. Consideration of a data management practise assists your BI tools in providing you with a better business plan and decision.
Hybrid Cloud Infrastructure Services
Microsoft Azure infrastructure services allow users to integrate the features of private and public clouds. Advanced networking allows them to develop site-to-site VPN between on-premise and Windows Azure cloud letting both clouds appear on similar networks. With hybrid infrastructure, multiple premise network connectivity, and smooth migration of virtual machines can be leveraged both on-premise and off-premise. Sonic Jelly Bean's Microsoft Azure managed services give enterprises the flexibility to operate, manage and analyze on and off-premise infrastructure and apps in the cloud.
Implement Custom BI Software
Implementing a custom BI software solution for business intelligence is intended to take care of unique problems in a specific circumstance. If developed correctly, custom BI software provides an almost perfect solution to your unique or specific business needs. Custom BI software can be effectively modified and expanded, keeping up with your business functionality and technology over the years.
BI Platforms to Connect, Manage &
Visualize your Data
We integrate Tableau BI tools to provide businesses with data analytics, rich visualization, and the ability to perform complex tasks with drag and drop functionality.
Our power BI consulting services assist clients in assessing, evaluating, and deploying business intelligence platforms for better decision making.
Our Qlik managed services help companies design, develop, and implement end-to-end data and analytics solutions using Qlik sense.